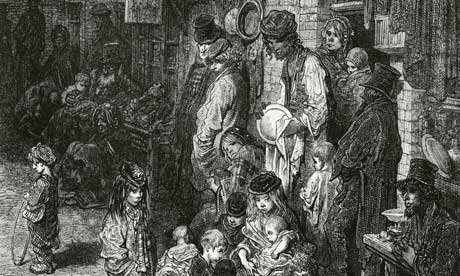 A few days ago I spoke about Ancestry adding to their UK collection without putting up a stand-alone advert box on their main page, they just add it under the What's New page. Today I will talk about another new Ancestry database London Poor Law Removal & Settlement Records 1828 –1930.
If you have never used this type of records before then you are in for a treat. Basically they come about because some-one who didn't 'belong' to a parish has fallen on hard times and is costing that parish money and they don't want to pay out for food, clothes, medical treatment etc. for someone who isn't their responsibility. The law concerning this is centuries old and it was by an 1572 Act that each parish had to appoint an Overseer of the Poor to handle such matters.
This set of records would have been created in consequence of the 1834 Poor Law Amendment Act which grouped parishes in unions and appointed Boards of Guardians amongst it's rate payers who oversaw the needs of the poor, sick and elderly. The system remained in place until 1930 when a further act handed the responsibility to borough and county councils.
The Poor Law system and workhouses were viewed with some dismay amongst those who felt there was a chance that they may end up in them and the phrase "You have us ending up in the workhouse" when someone did something wasteful or thoughtless was still to be heard partly as a threat and partly as a prediction well into the 1960's.
A person's place of rightful settlement was established by various means; by birth, father's place of settlement, residence over a certain period, marriage (wives took on their husbands place of legal settlement), serving an apprenticeship and a number of other ways. This all altered over the years when amendments to the act were declared. If a person was living not in their place of settlement and had to call on the assistance of the Board of Guardians for assistance then an examination of the person and their situation was called with testimony from the person concerned and sometimes witnesses. Depending on the evidence given a removal order might be issued and the person returned back to the parish that was deemed to be their rightful place of settlement. 
This database contains the documents that have survived for the unions of Bethnal Green, Hackney, Poplar, Shoreditch, and Stepney.
The amount of information given in an individuals each set of documents varies greatly, but here is an example of a Removal Order and a Settlement Certificate.
Removal Order
The removal order is a pre-printed page with details entered and then a page written out by hand as to the circumstances leading up to the removal order. The facts given as as follows –
To the Guardians of the Poor St Leonards, Shoreditch
From Hackney Union
The Hackney Union is sending them all back to the Shoreditch Union.
27 October 1899
Mary Ann MATKIN, a pauper aged about 45 years who is in the Hackney Workhouse and her children William 11 years, George 9 years and James 7 years who at living at the Strand Union School, Edmonton.
Mary Ann is the lawful wife of John Matkin who is absent.
Mary Ann states that on 17th October she left her husband at 43 Abbotts Street, Kingsland, they had lived there for less than 3 months. There is then a list of other addresses where they had lived and the approximate length of time.
She goes onto say that on 10 May 1880 she married William Matkin at St Mary's Church, Beverley, Yorkshire. There is then a list of places in Beverley where they
lived and the approximate time periods. The names and birth months and years of their children are given.
William the father was in the Shoreditch Infirmary in 1885 and last year they applied for help from the Medical office of Shoreditch.
So it can be seen that whilst it was not easy for your ancestors to be the subject of a removal order they do provide some great genealogical information. By the way I couldn't resist but search for Mary Ann and family in the 1901 census and she is living with her children in Spitalfields, none of them states they have a job so i suspect she is receiving out-relief – no sign of a husband!!
Settlement Certificate
3 March 1852
Mary Alpin aged 10 weeks has been left with Mrs Rogers at Mr Jeffreys, Grove Parsonage, Hackney. She doesn't have settlement in Hackney.
Notes state that her mother has died and she has been deserted by her father John Alpin late of 24 Regents Road, Stepney at Mrs Welch's. John Alpin last worked at the Central Gas Works, Bow. The father is to be apprehended.
Mary's details have been written up in the Hackney Union Settlements of the Poor pre-printed book. As her mother has died and her father has deserted her they have written her in the settlement book because that is where she was born. However if her father can be found she will be handed over either to him or to his place of settlement. There will be court records regarding the order to find and apprehend John Alpin so that is another set of documents that could be searched for.
Again I couldn't resist seeing what happened to baby Mary Alpin. In 1861 she is a nurse child with William & Rebecca Rogers living in Limehouse, they also have another nursechild. Sadly there is an entry in the GRO death index for Mary Ann Rogers Alpin in the June qrt of 1865 which is almost certainly her.
Summary
Do take a look at these records, they are a treasure house of great genealogy material. I assume that this collection may be added to as more records are indexed. The originals are held at the London Metropolitan Archive, London and they have been indexed by the Ancestry World Archives Project volunteers.
Links
Image – Gustave Doré London poor