Everyone is going to have at least one of their family lines come to an abrupt halt because of an illegitimate birth, Mark Herber in his book "Ancestral Trails" gives a figure of 2% of all birth in the early 18th century were illegitimate. However all is not lost because such an event can lead to a paper trail generated by officials as they attempt to locate the father and have him pay towards the upkeep of the child rather than the mother & child be supported from the poor rate. All of this creates documents that can be of great help in researching your family history.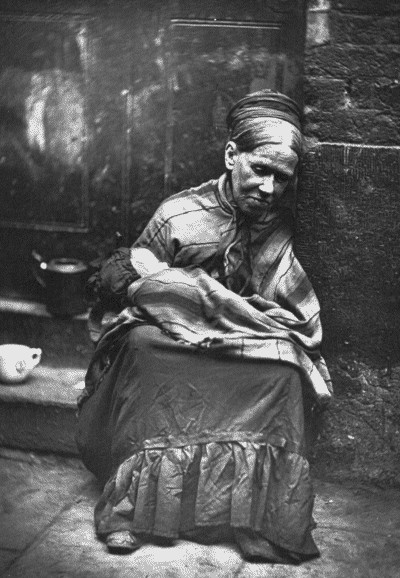 Children whose parents weren't married were referred to in parish papers in a number of way; illegitimate, base born, bastard, natural born. Sometimes in christening registers the father is named, but often only the mother's name is given. Depending on the cleric concerned a note in the margin may make some comment about the mother and the circumstances of the birth. These comments are often of a vitriolic nature!
Once an unmarried woman was discovered to be pregnant a train of events was started. Firstly the parish officials or Justices would convene and the mother would be required to declare who the father was, if the named man denied the accusation he might bring forward witnesses to bear out his declaration that he wasn't the father. These documents are know as examinations and many of them are verbatim accounts of what was said.
They make fascinating reading along the lines of Martha Smith declares that after the harvest supper on 30 September she and John Brown went together behind Farmer Jones' barn where they had carnal knowledge. John Brown denies this and brings forth witnesses who state that he was with them at the Pig & Whistle public house in the next village for the whole evening and didn't return home until 6am the next morning.
Once the father was established there was several options, the first and much preferred by the officials was that the couple should marry as soon as possible so that the child was legitimate at birth and supported by the father. A lump sum payment may be made that would cover the cost of the birth and upkeep of the child or a regular payment was ordered to be made to cover all costs. If the payment was made voluntarily then there will, sadly, be no paperwork left for us to find, it is only those fathers who had to be coerced into taking responsibility that leave documentation behind.
There were sometimes expenses involved in tracking down errant fathers and bringing them before the parish officials to make them pay for their offspring. In the case of my 3rd great grandfather, Joseph Jennings, he was somewhat reluctant to take responsibility for "begetting Jane Jennings with child", he left the parish, his whereabouts were discovered sometime after the birth of Henry his illegitimate son so two churchwardens were dispatched to find him and once found they purchased a marriage licence and brought Joseph back to Faringdon. He was "persuaded" by the parish officials to marry Jane. Joseph & Jane went on to have a further seven children and Joseph didn't disappear from the town again so it could be said that the system worked. The expenses incurred by the officials in finding Joseph and the cost of the marriage licence are all recorded in the Churchwarden Accounts.
All of these documents, where they have survived, will be housed in the Record Office or Archives of the county in which the birth took place. Some will be in the parish papers others in quarter session records. A number of Family History Societies have transcribed records which may included Bastardy Bond, Examinations & Churchwarden Accounts. These may be offered as a search service or for sale in DVD form.
Ancestry.co.uk have Bastardy Orders for Warwickshire 1816 – 1839 and Dorset 1821 – 1853. As they complete partnership agreements with other county archives there may be more of these types of documents made available online.
The LDS Church has a comprehensive collection of filmed copies of parish papers & Quarter Session Records which might contain examinations and/or bastardy bonds & churchwarden accounts. These films can be viewed for a small fee at Family History Centres worldwide. More information about what is available can be found at www.familysearch.org and clicking on the catalogue tab.
Films can be ordered online and you will be informed when they have arrived at your local FHC. An increasing number of records are available for browsing online at the FamilySearch website so check first to see if they are online before ordering.
Summary
Several documents may be generated in the search to find the father of an illegitimate child so that maintenance payments may be obtained.
Examination – The interviewing of the mother to be to ascertain who the father is and either his acceptance of paternity or his rebuttal of the accusation. Witnesses may be presented to support either sides case.
Bond – The setting out in writing, sometimes in longhand, sometimes on a pre-printed form with just the names added, of the payment order made against the father.
Churchwarden Accounts – Out of pocket expenses incurred by parish officials in finding errant fathers and also expenses incurred in supporting illegitimate children whose fathers have absconded.
| | |
| --- | --- |
| 1576 | Act enabled JP's to examine the circumstances of an illegitimate birth in an attempt to discover who the father was and to order him to pay maintenance |
| 1610 | Mothers of illegitimate children could be sent to the House of Correction for up to 1 year |
| 1732/3 | Act passed requiring women pregnant with an illegitimate child to declare to the authorities that she was carrying a child and who the father was. This act also prohibited the sending back to their home parish a pregnant unmarried woman. |
| 1743/4 | An illegitimate child's parish of settlement was the same as its mother's, not that of its father's. The mother could not be moved back to her parish of settlement until at least a month after the birth. |
| 17th – 18th century | Mothers could also be whipped for having an illegitimate child |